REWARDING INCREDIBLE KIDS
Accolades For Good Grades™ AND TEACHER'S CHOICE AWARDS FROM JOHN's INCREDIBLE PIZZA
John's Community Incentive program gives teachers, schools, and students fun incentives for recognition and accomplishments.
Join NOW and you'll receive fun certificates!
Accolades For Good Grades™
Bring in your report card to John's and receive 10 FREE Fun World Credits with the purchase of a regular price admission. FREE Fun World Credits must be redeemed at the time of admission purchase. John's accepts all grading systems. Not valid with birthday or event packages. Maximum 10 FREE Fun World Credits per student.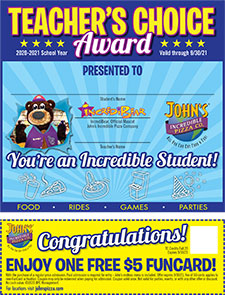 Teacher's Choice Awards
John's Teacher's Choice Awards program recognizes students in our communities. The 2022-2023 school year awards are now available to order! Awards for kids age 3-12 and ages 13+ are available for teachers to download digitally to print or they can be e-mailed to students.
Awards from the 2021-2022 school year expire on 9/30/22.
Awards from the 2022-2023 school year expire on 9/30/23.